Introduction
Truck Tippler is used to handle free flowing raw material. It finds frequent use in unloading of below mentioned materials:
Coal in thermal power plant
Iron ore in steel plant
Gypsum, limestone, clinker, fly ash etc. in cement plant.
Sand, quartz in glass industry.
Soda ash in chemical industries.
Food grains, wheat, corn etc. in agriculture industry.
Components of Truck Tippler
Truck tippler consists of below mentioned components:
Top Platform
Hydraulic Lift Cylinder – A pair of heavy-duty lift cylinders are used which can lift the platform up to 55 degrees.
Hydraulic or Fixed Back Stopper – A pair of back stoppers (hydraulic or fixed) are provided to stop the truck at the point of unloading.
Guide Rails – A pair of guide rails are provided to guide the truck till the rear wheel's rests against the back stopper.
Operation Philosophy of Truck Tippler
Initially the platform is in horizontal position. The truck or trailer to be unloaded is driven backwards through a ramp (if necessary) onto platform tills the rear wheels of the truck gets support from the resting pads of back stopper.
During this rear movement of truck or trailer, the retractable back stopper is retracted downwards so that the rear lights and number plates are not damaged.
Once the rear wheels of the truck or trailer touches the lower part of the back stopper, the retractable back stoppers are hydraulically raised so as to support the rear wheels. The back stopper is fitted with suitable rubber pads so that truck tires are not damaged.
After this, front anchoring chains are harnessed to the front axle by means of hooks attached to the locking chains. Then the front hooking cylinder to which the locking chains are attached are extended to have a hold of the front axle.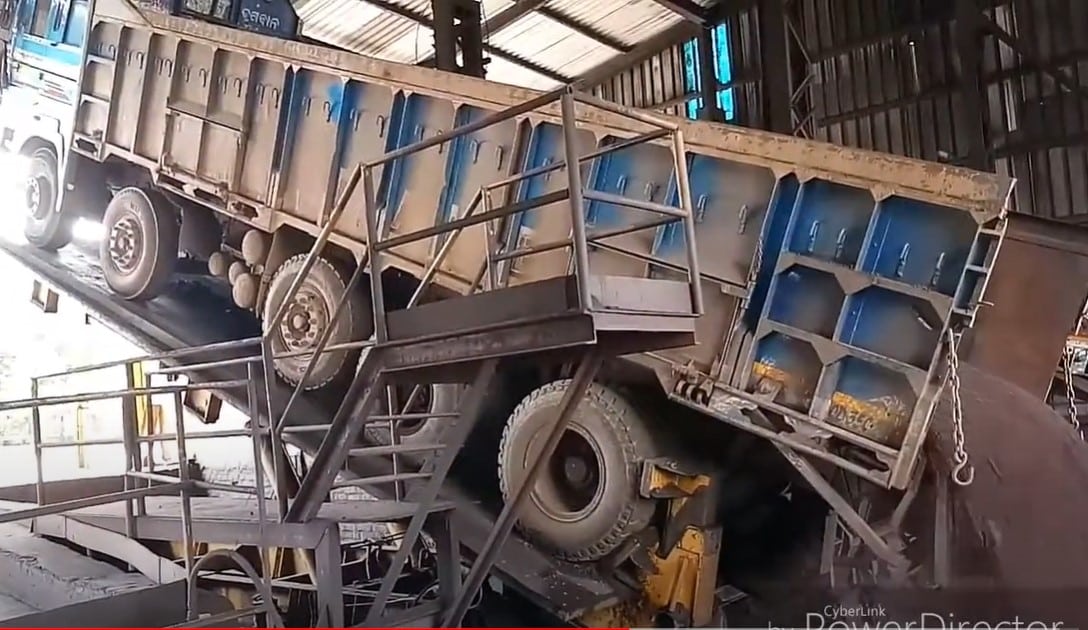 Now the truck is ready to be tilted backwards up-to 55 degrees by means of lifting cylinders actuated through push buttons from the control panel. Material starts falling on the hopper at the rear end from a tilting angle of 30 to 55 degrees till the truck or trailer is completely emptied to the hopper.
After unloading to the hopper another push button is operated for lowering the platform back to the horizontal position. The hook chains are slackening by means of push button actuating the hook cylinders and front anchoring chains are detached from the front axle.
The retractable back stopper is lowered by means of push button from the same control panel and empty truck is ready for moving out of the platform.
The average cycle time for the unloading operation is about 7-8 minutes.
RELATES SEARCHES: